Ecolab EMP III (HP) pump series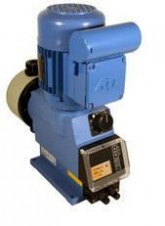 Characteristics
Motor-driven metering pumps with stainless steel AISI 316, PVDF, PP or PVC pump head.
Max. power: 0,09 kW
Max. capacity: 0,12 m3/hr
Max. capacity: 2 l/min
Max. capacity: 120 l/hr
Max. discharge head: 160 m
Max. pressure: 16 bar
The EMP III series are compactly built metering pumps, comprising a motor, gear box, pump head and electronics. Various electronic control variants guarantee that the pump can be adapted to any process you need. We also offer a wide selection of accessories.
Characteristics:
- Mechanical stroke adjustment
- Stroke frequency regulation
- Pulse control
- Pulse multiplication and division
- Pulse storage
- Standard signal drive
- Empty signal report and level pre-warning
- External metering stop
- Empty signal and stroke signal output
Material
PP
PVDF
Stainless steel AISI 316