Ecolab Turbo Smart pump series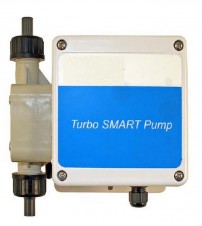 Characteristics
Engine-driven dosing pumps with PP pumphead.
Max. capacity: 15 l/hr
Max. discharge head: 20 m
Max. pressure: 2 bar
The Turbo Smart series are simple dosing pumps with a stepper motor for nearly pulse-free dosing.
Characteristics:
- 24 volt DC electricity supply
- Nearly pulse-free thanks to a stepper motor
- The suction stroke and compression stroke can be timed separately
- The stroke length can be adjusted using a potentiometer (1:50)
- 3 different process settings, for high viscosity products or for circumstances under which it is difficult to obtain suction.