Zenit APF pump series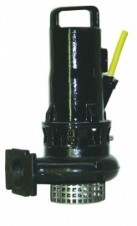 Characteristics
Cast-iron explosion-proof hgh pressure submersible pumps.
Max. power: 1,5 kW
Max. capacity: 27,5 m3/hr
Max. capacity: 458 l/min
Max. capacity: 27500 l/hr
Max. discharge head: 22,5 m
Max. pressure: 2 bar
Speed: 2900 rpm
The explosion-proof APF high pressure submersible pumps are supplied with a half-open channel impeller and a stainless steel suction hose strainer and they meet ATEX standards.
The seal consists of two mechanical seals with silicon carbide running surfaces in a controllable oil chamber. These mechanical seals are assembled in a back-to-back construction so that the rotating part of the lower seal is completely protected against dirt adhesion.
The APF submersible pumps are all supplied with a temperature cut-off switch that can be connected externally.
For applications with chemically corrosive liquids it is easy to protect the cable using the special cable grommet.