SC pump series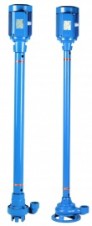 Characteristics
Cast-iron vertical cantilever pumps for drainage water.
Max. power: 0,45 kW
Max. capacity: 18 m3/hr
Max. capacity: 300 l/min
Max. capacity: 18000 l/hr
Max. discharge head: 11,8 m
Max. pressure: 1 bar
Max. drainage: 6 mm
Max. insertion length: 1220 mm
The SC cantilever pumps are often used when the temperature of the liquid is higher than 40 deg C and a submersible pump with a submersed electric motor cannot be adequately cooled.
The pumps are available in various insert lengths.
Supplied with 230 Volt 1 phase or 400 Volt 3 phases, with or without an automatic level control.