Jung Compli 300 E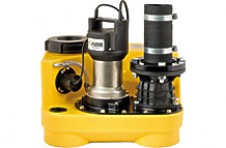 Characteristics
Single pump waste water installation for household waste water.
Max. capacity: 29 m3/hr
Max. capacity: 483 l/min
Max. capacity: 29000 l/hr
Max. discharge head: 10,5 m
Max. pressure: 1 bar
Max. drainage: 50 mm
These installations are the smallest waste water installations available in the Compli series. They are primarily used for pumping household waste water from, for example, cellars or houseboats. Thanks to their compact size and numerous connectivity options, the Compli 300 E installations are very versatile.

The flow connector has a diameter of DN100 and a flow height of 180 mm.

The Compli 300 E installations are equipped with a 50 litre PE reservoir.

The power supply is 230 Volt 1 phase.