RB pump series with channel impeller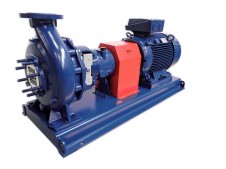 Characteristics
Centrifugal pumps with channel impeller.
Max. power: 110 kW
Max. capacity: 1200 m3/hr
Max. capacity: 20000 l/min
Max. capacity: 1200000 l/hr
Max. discharge head: 60 m
Max. pressure: 6 bar
Max. drainage: 40 mm
The RB centrifugal pumps have a channel impeller and a dirt filter which allow solids through up to a size of 40 mm and are, with regard to their dimensions, compliant with DIN 24256.
The pumps are available in cast iron, cast stainless steel AISI 316 or special alloys.
The pumps can be supplied in 3 different ways of construction. For a compact build there is a version with a drive shaft and a standard IEC electric motor mounted directly onto the pump. Apart from this, there is also a version with a bearing unit and a bell housing with a standard IEC motor assembled directly onto the bell housing, using a flange connection. The third option is to build the pump with a bearing unit in an uncoupled axle on a base plate with an electric motor, flexible coupling and safety guard.
For the choice of seal there are many options such as single or double flushed mechanical seals that are available in various material combinations.
The pumps are also available in explosion-proof versions compliant with ATEX.<
Material
Cast iron
Hastelloy
Stainless steel AISI 316