Ecolab EMP-KKS pump series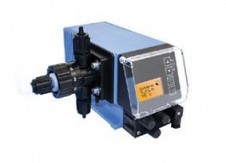 Characteristics
Very precise metering pumps for very low capacities.
Max. power: 0,0187 kW
Max. capacity: 0,0014 m3/hr
Max. capacity: 0,023 l/min
Max. capacity: 1,4 l/hr
Max. discharge head: 100 m
Max. pressure: 10 bar
Metering pumps supplied with piston and diaphragm. The diaphragm serves to feed the product whereas the piston handles the metering.
Because of the continuous surplus return, this metering pump operates self-venting. These pumps are therefore ideal for pumping de-gassing products.
Characteristics:
- High metering accuracy even with degassing products
- Self-priming and self-venting
- Mechanical stroke adjustment
- Stroke frequency regulation
- Pulse control
- Pulse multiplication and division
- Pulse storage
- Standard signal drive
- Empty signal report and level pre-warning
- External metering lock
- Empty signal and stroke signal output