Ecolab Pneumatic dosing pump series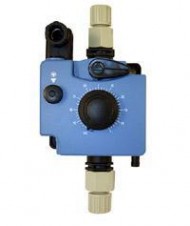 Characteristics
Air-driven dosing pumps driven by external 3/2 valve.
Max. capacity: 0,012 m3/hr
Max. capacity: 0,2 l/min
Max. capacity: 12 l/hr
Max. discharge head: 60 m
Max. pressure: 6 bar
The pumps are equipped with mechanical stroke length setting and a stroke frequency. With vent and Teflon membrane.
Thanks to its compact design, these dosing pumps are particularly suitable for small spaces.
All the controls are located to the front of the pump.
Characteristics:
- Works without electricity
- Mechanical stroke length setting
- Space-saver design
- Separate vent
- Teflon membrane
- Integrated 3/2 valve optional