CL SEAL-M ISO pump series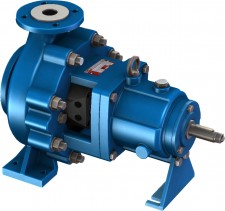 Characteristics
Centrifugal pumps with plastic lining follow ISO 2858 -. ISO 5199 Mechanical seal chamber according to ISO 3069 / UNI EN 12756.
Max. power: 75 kW
Max. capacity: 340 m3/hr
Max. capacity: 5667 l/min
Max. capacity: 340000 l/hr
Max. discharge head: 86 m
Max. pressure: 9 bar
The CL Seal M-priming centrifugal pumps are equipped with a closed impeller. These pumps feature a seal chamber and can be performed with single-, double seal or stuffing box.
The pumps are fitted with a plastic lining in PFA.
The pumps are supplied in free-axis performance or are freely fully assembled with motor and clutch on base.
For hazardous areas explosion-proof ATEX versions available.
These pumps are ideal for pumping corrosive water thin liquids without solids in a temperature range between -30 ° C and +120 ° C.
The maximum allowable system pressure is, depending on the implementation, 16 bar.