CT MAG-M pump series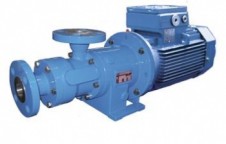 Characteristics
Magnetic drive metal centrifugal pumps with peripheral impeller.
Max. power: 75 kW
Max. capacity: 25 m3/hr
Max. capacity: 417 l/min
Max. capacity: 25000 l/hr
Max. discharge head: 310 m
Max. pressure: 31 bar
The CT MAG-M magnetic drive, standard-priming, centrifugal process pumps are supplied with a peripheral impeller. These pumps do not have a mechanical seal and are hermetically sealed so the risk of leakage is locked out.
Characteristic of these pumps is the relatively high pressure they provide in relation to their capacity.
The pumps are available in stainless steel AISI 316, Hastelloy, Duplex or other special alloys.
The slider bearings, depending on the liquid to be pumped, can be supplied in graphite, silicon carbide, tungsten carbide or PTFE.
For hazardous areas explosion-proof versions are available which are compliant with ATEX.
The pumps are available with thread or flange connections and are ideal for pumping corrosive liquids as thin as water without liquids in a temperature range between -120 deg C and +350 deg C.
The max. acceptable system pressure is up to 150 bar, depending on the particular model.
Material
Hastelloy
Stainless steel 316