ECO SNT pump series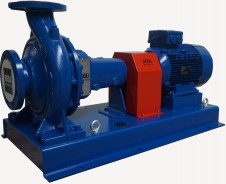 Characteristics
Normalized pumps according to DIN 24255 / EN 733 with bearing block on base and B3 motor.
Max. power: 110 kW
Max. capacity: 600 m3/hr
Max. capacity: 10000 l/min
Max. capacity: 600000 l/hr
Max. discharge head: 100 m
Max. pressure: 10 bar
ECO SNT pumps are standard centrifugal pumps with bearing block in bare shaft which are assembled usually be supplied complete with electric motor, flexible coupling and koppelngsbeschermkap on a foundation.
The pumps are standardized in accordance with DIN 24255 / EN 733.
Efficiency: MEI MEI ≥ 0.4 and ≥ 0.7 (EU 547/2012)
The pump casing is available in cast iron, ductile iron, stainless steel AISI 316, bronze, duplex, super duplex or on request in other materials. The pump shaft is made of stainless steel AISI 316, the impeller is available in different materials.
The seal consists of a single mechanical seal which, depending on the liquid to be pumped, is available in various material combinations. On request, the pumps are also available with a stuffing box.
Material
Cast iron
Bronze
Duplex
Stainless steel AISI 316