MPC pump series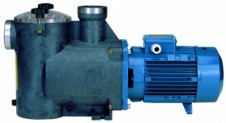 Characteristics
Self-priming synthetic swimming pool pumps with removable hair filter.
Max. power: 2,2 kW
Max. capacity: 40 m3/hr
Max. capacity: 667 l/min
Max. capacity: 40000 l/hr
Max. discharge head: 18 m
Max. pressure: 2 bar
Speed: 2900 rpm
The MPC pumps are self-priming, synthetic centrifugal pumps with a built-on filter and removable filter element.
The pumps are self-priming to 4 metre.
The pump housing and the diffuser are made of glass fibre reinforced thermo plastic, the impeller of noryl and the transparent cover of the filter housing of lexan.
The seal consists of a single mechanical seal with carbon/ceramic running surfaces and FPM elastomers.
The pumps are ideal for pumping liquid as thin as water up to a max. temperature of 60 deg C when the chemical resistance of the materials that come into contact with the liquid must be taken into accound.