SCP pump series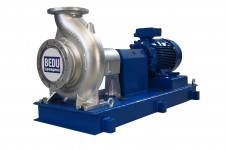 Characteristics
Chemical process pumps that comply with EN 22858 / ISO 2858.
Max. power: 500 kW
Max. capacity: 1800 m3/hr
Max. capacity: 10000 l/min
Max. capacity: 600000 l/hr
Max. discharge head: 170 m
Max. pressure: 17 bar
These SCP pumps are standardised centrifugal pumps with bearing blocks in the free shaft end which are typically supplied fully assembled with an electric motor, flexible coupling and coupling protective cover on a foundation.
The pumps are standardised according to the EN 22858 and ISO 2858 standards.
The pump housing is available in cast iron, bronze, stainless steel AISI 316 or Hastelloy. The pump shaft is made of steel, stainless steel, or Hastelloy. The impeller is available in a wide range of materials.
Depending on the fluid to be pumped, the pump can be equipped with a stuffing box gasket or single, double or cartridge mechanical seal. An external seal cooling is available if required.
Material
Cast iron
Bronze
Hastelloy
Stainless steel 316