SB3 pump series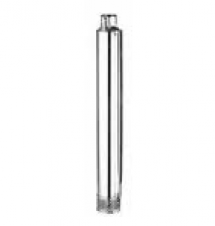 Characteristics
3" Submersible pumps oil-cooled engines.
Max. power: 1,1 kW
Max. capacity: 2,7 m3/hr
Max. capacity: 45 l/min
Max. capacity: 2700 l/hr
Max. discharge head: 120 m
Max. pressure: 12 bar
The SB3 source pumps have an external diameter of 74 mm dia.
The pumps are equipped with a built-in check valve.
The pump casing is made of stainless steel AISI 304 and the impellers and diffusers made ??of plastic.
By default, these pumps are equipped with an oil-cooled electric motor, which by means of a NEMA flange is coupled to the pump work.

The pumps are suitable for the pumping of clean water without solids up to a maximum temperature of 30 ° C.