Versa Matic Diaphragm pumps with separated manifolds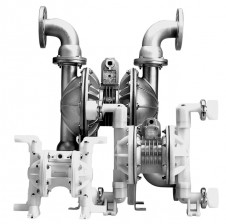 Characteristics
Pneumatically driven. For simultaneously pumping of 2 different kinds of liquid.
Max. capacity: 52 m3/hr
Max. capacity: 870 l/min
Max. capacity: 52200 l/hr
Max. discharge head: 70 m
Max. pressure: 7 bar
Max. drainage: 19,1 mm
With a pump which has separated manifolds you can pump two different liquids using one pump. The mutual ratio amounts to about 1:1 (depending on, among other things, the difference in viscosity of the two liquids and the suction route).
This version is available for 1/2", 1", 1 1/2", 2" and 3" pumps in all materials.