Versa Matic High pressure diaphragm pumps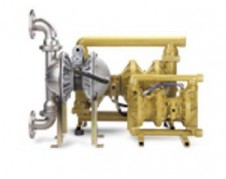 Characteristics
Pneumatically driven. Available in aluminium or stainless steel AISI 316.
Max. capacity: 20 m3/hr
Max. capacity: 341 l/min
Max. capacity: 20460 l/hr
Max. discharge head: 160 m
Max. pressure: 16 bar
Max. drainage: 6,35 mm
The pneumatically driven high pressure diaphragm pumps have an air pressure/fluid pressure ratio of 1:2. These pumps are often applied in filter press applications when a pressure of ca. 12 bar is required.
There are various types and versions available. There is, for example a single operating 2" version in stainless steel AISI 316, and double operating versions with 1" and 2" connections in both aluminium and stainless steel AISI 316. These double operating versions have fewer pulses and a higher flow.
All high pressure pumps are supplied with bolted pump chambers so the risk of leakage is minimal.
Depending on the liquid to be pumped the pumps can be supplied in various materials, diaphragms, balls, seats and o-rings.
We recommend that these high pressure pumps are provided with pulse dampeners so that pressure peaks are flattened which extends the lifetime of the diaphragms and valves and other parts of the drainage system.
Material
Aluminium
Stainless steel AISI 316