Drumpumps for mixing and pumping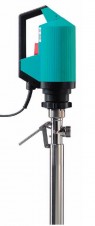 Characteristics
Drum pumps specially for pre mixing for example emulsions.
Max. power: 0,85 kW
Max. capacity: 9 m3/hr
Max. capacity: 142 l/min
Max. capacity: 8520 l/hr
Max. discharge head: 16 m
Max. pressure: 2 bar
Max. insertion length: 1200 mm
Drum pumps in stainless steel or PP especially suitable for the pre-mixing, for example, emulsions, dispersions and suspensions.
features:
- Available in stainless steel and PP
- Various insertion lengths
- Available with different engines, air-operated or electrically
- Optional carry with screw impeller for medium viscous liquids
- Also available in ATEX version
- Solenoid or quick release couplings