S pump series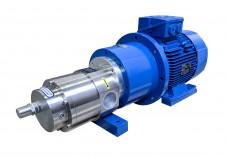 Characteristics
Monoblock gear pumps with IEC electric motor in cast iron, stainless steel AISI 316, C45 steel or bronze.
Max. capacity: 15 m3/hr
Max. capacity: 250 l/min
Max. capacity: 15000 l/hr
Max. pressure: 15 bar
The monoblock gear pumps have been exported from the S and SK series with bell housing and flexible coupling and are assembled with standard IEC electric motors.
The S series is available with single or double mechanical seal or magnetic coupling. The mechanical seals are available in various material combinations.
Optionally the pumps are available with an integrated safety valve.
The SK series is especialy for fluids with a low viscosity.
Material
Cast iron
Bronze
Stainless steel 316