Propellors / Flowmakers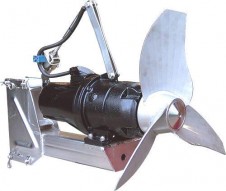 Characteristics
For moving large volumes at a low speed.
Propellors are mainly used in aeration tanks when larger volumes have to be moved .
The diameter of the propellors is 2300 mm.
The motor power varies from 1,5 to 5.5 kW and the speed from 32,3 to 34,4 rpm.
The material of the casing can be supplied in cast iron, with an optional epoxy coating.
The propeller is made of glass fiber reinforced polyamide.