PSF3S pump series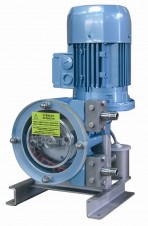 Characteristics
High pressure pumps with fixed or variable capacity. Also available in ATEX version.
Max. power: 0,18 kW
Max. capacity: 0,054 m3/hr
Max. capacity: 1 l/min
Max. capacity: 54 l/hr
Max. discharge head: 120 m
Max. pressure: 12 bar
Max. drainage: 5 mm
The PSF3S hose positive displacement pumps are mainly used in applications in which a high pressure is required in combination with a fixed or variable capacity.
The pumps are available with hoses in various materials including natural rubber, foodgrade, nitrile, hypalon, silicone or EPDM, depending on the liquid to be pumped. The connections are also available in various materials, including stainless steel AISI 316, PVC, polypropylene, PVDF or Titanium.
The pumps can be supplied with various connections including hose connections, BSP thread connections, DIN flange connections, thread connections compliant with DIN 11851, clamp connections etc.
The speed that must be specified for the pumps is completely dependant upon the capacity you require, the temperature of the liquid, the desired pressure, the vacuum and the number of running hours.
The pumps are supplied with a fixed capacity that is based on a gear box with various transfer ratios, or in variable capacity which is obtained by a mechanical variable speed or a frequency control.
The pumps are equipped with roller bearing pressure and a dry pump housing which requires the hose to be periodically lubricated. The pumps have a leak detection system which signals when a hose is ruptured. This enables you to stop the pump immediately or make an alarm go off.