SCE MAG-M pump series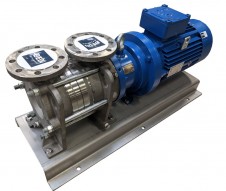 Characteristics
Magnet driven self-priming side channel impeller pumps.
Max. capacity: 35 m3/hr
Max. capacity: 583 l/min
Max. capacity: 35000 l/hr
Max. discharge head: 48 m
For, among other things, the suction of liquids with a high vapor pressure from underground tanks, we can now offer you a good solution with the Bedu self-priming magnetic drive side channel impeller pumps, which are designed in an explosion-proof version in accordance with ATEX.
Characteristics:
- very good and fast self-priming
- low NPSH required
- magnetic drive, so no shaft seal
- made from full material
- capacity up to 35 m3 / h
- head up to max. 48 m
- temperature resistance from -120 ° C to + 300 ° C