PC-V pump series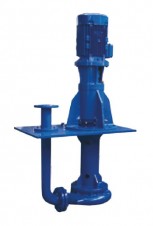 Characteristics
Plug Pumps for dirt and process water.
Max. capacity: 1600 m3/hr
Max. capacity: 26667 l/min
Max. capacity: 1600000 l/hr
Max. discharge head: 95 m
Max. pressure: 10 bar
Max. drainage: 180 mm
Max. insertion length: 4000 mm
The PC-V plug-in pumps are often used in those situations where the temperature of the liquid is higher than 40 ° C and a submersible pump with submerged electric motor receives insufficient cooling. Even where the pump must run continuously and be a reliable part of a process, these pumps are ideally suited.
The PC-V pumps are equipped with a standard electric motor.
The pumps are available in various insert lengths.
For this series are different impeller types available, vortex, half open, closed channel impellers.
In addition, these pumps can be supplied in explosion-proof version according to ATEX.
Material
Cast iron
Stainless steel AISI 316