RCV pump series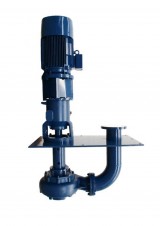 Characteristics
Cantilever pumps with recessed impeller.
Max. power: 75 kW
Max. capacity: 350 m3/hr
Max. capacity: 5833 l/min
Max. capacity: 350000 l/hr
Max. discharge head: 60 m
Max. pressure: 6 bar
Max. drainage: 112 mm
Max. insertion length: 6000 mm
The RCV cantilever pumps have a recessed impeller and are often used when the temperature of the liquid is higher than 40 deg C and when a submersible pump with a submersed electric motor is not adequately cooled. These pumps are also ideal if the pump needs to run continuously and be a reliable part of a process. The large gauge dirt filter enables large dirt solids of up to a max. 112 mm to be pumped!
The RCV pumps are supplied with a standard IEC electric motor.
The pumps are available in various insert lengths. Depending on the insert length, there are also models available without a slider bearing.
For corrosive liquids, special versions are available in which the impeller is made of a special alloy.
These pumps are available in an explosion-proof version which is compliant with ATEX.
Material
Cast iron
Stainless steel AISI304