Matrix pump series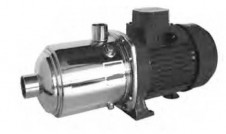 Characteristics
Stainless steel AISI 304 multi-stage centrifugal pumps.
Max. power: 4 kW
Max. capacity: 27 m3/hr
Max. capacity: 450 l/min
Max. capacity: 27000 l/hr
Max. discharge head: 97 m
Max. pressure: 10 bar
The Matrix pumps are horizontal multistage centrifugal pumps with stainless steel AISI 304 pump housing, impellers and diffusers.

The seal consists of a single mechanical seal with carbon / ceramic running surfaces and EPDM elastomers.

The pumps are suitable for pumping water thin liquids without solids with a temperature range between -15 and + 110 ° C.