ARBO HD-KR / TK pump series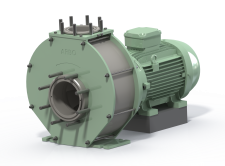 Characteristics
Plastic chemical standard centrifugal pumps with shaft seal according to ISO 2858.
Max. power: 75 kW
Max. capacity: 750 m3/hr
Max. capacity: 12500 l/min
Max. capacity: 750000 l/hr
Max. discharge head: 90 m
Max. pressure: 9 bar
Max. drainage: 3 mm
The Arbo chemical standard plastic centrifugal pumps with shaft seals are pumps made from solid plastic parts that have been machined. Depending on the liquid to be pumped, the pumps are available with various shaft seals. The pumps are available in a short-coupled version and in a version with bearing block completely assembled on foundation.