CDX pump series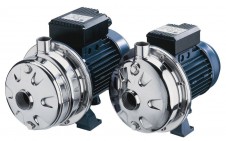 Characteristics
Stainless steel AISI 304 centrifugal pumps.
Max. power: 1,8 kW
Max. capacity: 15 m3/hr
Max. capacity: 250 l/min
Max. capacity: 15000 l/hr
Max. discharge head: 38 m
Max. pressure: 4 bar
Speed: 2900 rpm
The CDX pumps are standard-priming, horizontal centrifugal pumps.
The pump housing and the impeller are made of stainless steel AISI 304.
The pumps are ideal for pumping clean liquids as thin as water when the chemical resistance of the materials that come into contact with the liquid must be considered.
The max. temperature of the liquid that can be pumped is up to 90 deg C (Depending on the suction head).
There are various materials available for the mechanical seal, depending on the application.
Material
Stainless steel 304
Stainless steel 316