ECO SKY pump series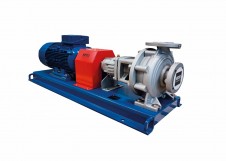 Characteristics
Thermal oil pumps with bearing unit on base plate and B3 motor.
Max. power: 110 kW
Max. capacity: 500 m3/hr
Max. capacity: 8333 l/min
Max. capacity: 500000 l/hr
Max. discharge head: 105 m
Max. pressure: 10 bar
The ECO SKY pumps are thermal oil centrifugal pumps with a bearing unit and uncoupled axle which are usually supplied as a complete construction with electric motor, flexible coupling and coupling safety guard on a base plate.
The pump housing is made from nodular cast iron.
The seal consists of a single mechanical seal.