HD pump series with closed impeller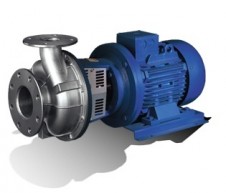 Characteristics
Stainless steel AISI 316 centrifugal pumps with closed impeller.
Max. power: 55 kW
Max. capacity: 250 m3/hr
Max. capacity: 4167 l/min
Max. capacity: 250000 l/hr
Max. discharge head: 60 m
Max. pressure: 6 bar
The HD centrifugal pumps have a closed impeller made of cast stainless steel AISI 316 and are supplied with standard IEC electric motors.
The dimensions of these pumps are mostly compliant with DIN 24256.
For the choice of connection there are various options including PN16 flange connections, thread connections compliant with DIN 11851, clamp connections etc.
These pumps are available with a wide range of mechanical seals varying from single mechanical seals to flushed double mechanical seals in various material combinations, depending on the application.
For hazardous areas there are explosion-proof versions available which are compliant with ATEX.