MXA pump series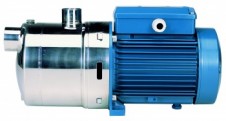 Characteristics
Self-priming multi-stage centrifugal pumps
Max. power: 1,1 kW
Max. capacity: 8 m3/hr
Max. capacity: 133 l/min
Max. capacity: 8000 l/hr
Max. discharge head: 56 m
Max. pressure: 6 bar
Speed: 2900 rpm
The MXA pumps are self-priming, horizontal, multi-stage centrifugal pumps with a stainless steel AISI 304 pump housing and noryl impellers and diffusers.
The seal consists of a single mechanical seal with carbon/ceramic running surfaces and NBR elastomers.
The pumps are ideal for pumping clean water without solids to a max. temperature of 35 deg C.