NM4 / NMS4 pump series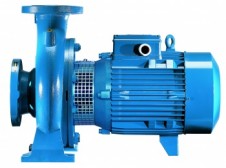 Characteristics
Standard pumps compliant with DIN 24255/EN 733 1450 rpm.
Max. power: 75 kW
Max. capacity: 480 m3/hr
Max. capacity: 8000 l/min
Max. capacity: 480000 l/hr
Max. discharge head: 61,5 m
Max. pressure: 6 bar
Speed: 1450 rpm
The NM4 pumps are close-coupled, standard centrifugal pumps with flange connections which are compliant with DIN 24255/EN 733.
The pump housing is available in cast iron or bronze. Depending on the type, the impeller of a cast-iron pump is made of cast iron or brass.
The impeller of the bronze version is also supplied in bronze and the shaft is made of stainless steel AISI 316.
The seal consists of a single mechanical seal that, depending on the liquid to be pumped, is available in various material combinations.