S pump series Bi-Block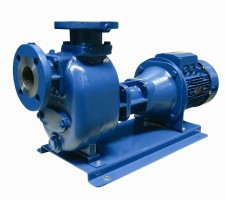 Characteristics
Self-priming waste water centrifugal pumps with standard IEC electric motor.
Max. power: 55 kW
Max. capacity: 1440 m3/hr
Max. capacity: 24000 l/min
Max. capacity: 1440000 l/hr
Max. discharge head: 60 m
Max. pressure: 6 bar
Max. drainage: 80 mm
The self-priming S-pumps are produced with a half-open impeller so that watery liquids containing of up to 80 mm can be pumped.
The Bi-block pumps are supplied with a robust bearing unit, a bell housing and a standard electric motor.
The pumps have a cleaning inspection cover, exchangeable sliding plates, a built-in non-return valve and a greased mechanical seal.
Depending on the application, the pumps are available in cast iron or stainless steel AISI 316.
The pumps are also available in explosion-proof versions compliant with ATEX.
Material
Cast iron
Stainless steel AISI 316