SKM-E pump series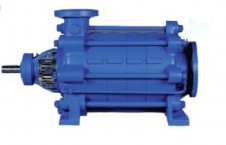 Characteristics
Horizontal multistage centrifugal pumps with closed impellers.
Max. power: 200 kW
Max. capacity: 400 m3/hr
Max. capacity: 6667 l/min
Max. capacity: 400000 l/hr
Max. discharge head: 390 m
Max. pressure: 39 bar
SKM-E pumps are suited to low-viscosity, clean or mildly polluted liquids.
The horizontal multistage centrifugal pumps come equipped with closed impellers with diffusers. The intake flanges conform the ISO 705-2/PN16 standard and the discharge flanges conform to the ISO 7005-2/PN40 standard.
The standard design comes with the suction flange at the front and the discharge flange on the motor side. We can supply alternative flange orientations if required.
The pump has a lubricated bearing bush at the front and a lubricated ball bearing on the discharge side.
The pumps come with either a stuffing box gasket or mechanical seal.
Material
Cast iron
Bronze
Stainless steel AISI 316