Drum pumps with PP pump unit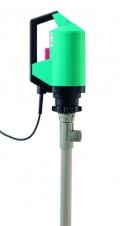 Characteristics
Insert length 700, 1000 or 1200 mm in combiation with various motor.
Max. power: 0,85 kW
Max. capacity: 6,6 m3/hr
Max. capacity: 110 l/min
Max. capacity: 6600 l/hr
Max. discharge head: 16 m
Max. pressure: 2 bar
Max. insertion length: 1200 mm
The drum pumps with polyprolyleen pump units can be supplied in various insert lengths including 700 mm for 60 litre barrels, 1000 mm for 200 litre barrels or 1200 mm for 1000 litre IBCs.
The pump units can be produced with 3 different kinds of impellers. Most common is the A-impeller. Apart from this there is a multi-stage pump unit (R) for larger heads of discharge and a pump unit with a screw impeller (S) which is ideal for liquids with higher viscosities.
The pump units can be combined with 4 different engines including a 230 Volt motor with a power of 520 Watt, a 230 Volt motor with a power of 850 Watt, a compressed air engine with a power of 600 Watt and an alternating current motor with a power of 370 Watt.
Typical of these drum pumps is the robust geared coupling between motor and pump unit, a quick sealing adapter sleeve which connects the motor to the pump unit and a seal-less version, all ensuring leakage belongs to the past.