H pump series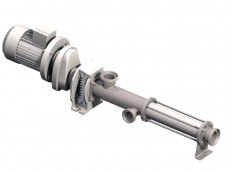 Characteristics
Screw pumps in monoblock or ash-free performance.
Max. capacity: 200 m3/hr
Max. capacity: 3333 l/min
Max. capacity: 200000 l/hr
Max. discharge head: 240 m
Max. pressure: 24 bar
This series is suitable for pumping liquid well fluids in the food, pharmaceutical, cosmetic and chemical industries.
For the H series are separate connections (DIN 11851, Clamp, RJT, SMS, din 2501 and ISO GAS).
Depending on the pumped liquid and the desired pressure are different types of rotors and stators are available in various geometries and materials. For the seal there are many possibilities, including various packing materials, single mechanical seal with possibly. a fat or oil chamber or flushed double mechanical seal in various material combinations. For the case there is a choice of stainless steel AISI 304, AISI 316 or special alloys.
The pumps are equipped with a relatively long shaft with two universal joints where the angular displacement is maintained to the benefit of the life minimized.
The drive may vary from one gear at a fixed speed, a variable speed variable speed or frequency control with electronic variable speed.