Jung U3K pump Spezial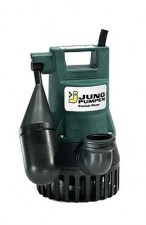 Characteristics
The U3K Spezial submersible pumps are ideal for pumping aggressive liquids.
Max. power: 0,2 kW
Max. capacity: 6,5 m3/hr
Max. capacity: 108 l/min
Max. capacity: 6500 l/hr
Max. discharge head: 7 m
Max. pressure: 1 bar
The U3K Spezial is produced in a variety of special materials for use in pumping aggressive liquids such as saline solutions, brackish water and condensation Water with a high temperature from, for example, dishwashers and washing machines can also be pumped by this pump.