Zenit CHOPPER pump series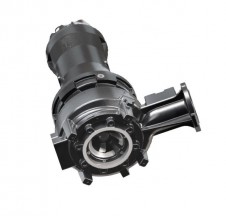 Characteristics
High efficiency submersible pump with cutter.
Max. capacity: 900 m3/hr
Max. capacity: 15000 l/min
Max. capacity: 900000 l/hr
Max. discharge head: 95 m
Max. pressure: 9,5 bar
Features:
- High efficient IE3 motors with Class H insulation according to NEMA A standard.
- S1 operation in liquids with temperatures up to 60 ° C.
- Diffuser submersible pump with channel fan. All models with an open channel fan are axially adjustable, ensuring that the impeller remains balanced and its performance - also maintains the first wear and tear phenomena.
- The engine can be cooled by a patented closed cooling system. In this way, if particles get into the oil chamber by wear on the first mechanical seal, the glycol in the cooling system will not be contaminated.
- Casted cable entry to prevent any leakage.
- A humidity sensor can be installed in the engine cover.
- Motoras made of stainless steel AISI 431. On request also available in NITRONIC 50.
- The whole series is available with 2 back-to-back mounted silicon carbide seals and V-ring in closed oil chamber.