CNV MAG-M pump series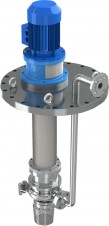 Characteristics
Magnet-driven submersible pumps.
Max. power: 500 kW
Max. capacity: 500 m3/hr
Max. capacity: 8333 l/min
Max. capacity: 500000 l/hr
Max. discharge head: 120 m
Max. pressure: 12 bar
Max. insertion length: 7000 mm
The CNV MAG-M magnet-driven submersible pumps are equipped with a closed impeller. These pumps do not have any shaft seals which precludes the risk of leakage.

The pumps come in CF8M, Hastelloy C276, Incoloy 825, Duplex or other alloys.

The sleeve bearings can be made of graphite, PTFEC/G, silicium carbide or tungsten carbide, depending on the liquids that need to pumped.

The pumps come with flange joints that comply with DIN PN16-40, and ANSI B16.5 class 150 and 300 lbs.

These pumps are highly suited to pumping corrosive liquids without solids with a maximum viscosity of 200 cSt and a temperature range of between -120°C and +250°C.

The standard maximum system pressure is 16 bar. Options include designs of up to 150 bar.

Material
Hastelloy
Stainless steel AISI 316