Our very experienced and skilled technicians work in our state-of-the-art and comprehensive workshop. They assemble, test and coat the majority of pumps. Besides that, our technicians can also build complete pump skids, fully customised to our clients needs. Bedu Pompen delivers top quality custom solutions.
Repair and revision
We do all the repair and revisioning of the pumps ourselves. Before we do, we always clean and inspect the pump thoroughly and prepare an inspection report and quote for the repair. After receiving your go-ahead, we start the repair process which can take place in our comprehensive workshop or at your location.
All maintenance and repair happens in-house
Bedu Pompen response swiftly during a malfunction or issue and the best way to do that is to do as much of the work our in-house workshop.
Machining
We have a variety of machines available in our workshop including: a lathe, a milling machine, drill presses and more. Our machines gives us the ability to create custom pump axes and other parts fast, when the spare parts are not available fast enough for your specific situation. On a daily basis we also lathe impellers at a specific duty point.
Welding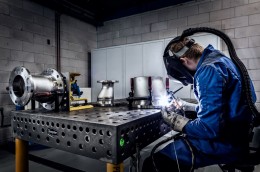 Our team has certified welders with years of experience. They have all the specialised tools to add special connections, protective covers, foundations, frames, etcetera to pumps. It's also common for us to supply part of the piping, besides the pumps, to make sure the installation on site goes as fast as possible.
Electrical Engineering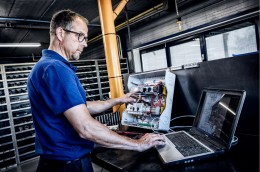 A pump is incomplete without electrical control system, that's why we often offer pumps and pump skids including control boxes, frequency converters, sensors or monitoring. We are able to monitor the flow, suction and discharge pressure, temperature, rotations, vibrations, power and currency within your process. Monitoring gives us a wealth of information we can use during unexpected malfunctions and helps us to prevent high maintenance costs.
Coating / Spraying
Pumps are usually set up in aggressive environments. We believe it is important, even after years of being in operation, our pumps and pump skids still are in good condition and aren't fully corroded.
We standard apply a high quality two-component coating to make sure of that. Our coating has a proven trackrecord in the chemical industry and we can coat the pump and/or the drive in any color you want.
Service and 24/7 technical support services
Thanks to our fully equipped service vehicles we can perform repairs and revision on location. We are also able to put pumps and pump installation in operation on location. Our support services are available 24/7.
Testing
You should be able to rely a pump we delivered fully. Every pump we assemble or repair is fully tested before we deliver it to you. We perform extensive tests in our comprehensive testingfacilities. We measure the flow, suction and discharge pressure, temperature, rotations, vibrations, power and currency during our tests and automatically generate a digital testreport.
The testreport is linked to the production- or service order in our Navision ERP - system. We compare the testreport with the original performance curve of the pump. We take the appropriate actions in case we see discrepancies in the report. This makes sure we can guarantee our pumps and repairs work!
Worry free
We can test a pump for you, even when we haven't manufactured it. This way we can take that burden away from you and make sure your pump operate properly.