EN pump series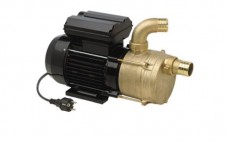 Characteristics
Self-priming bronze side entry impeller pumps.
Max. power: 1,9 kW
Max. capacity: 15,7 m3/hr
Max. capacity: 250 l/min
Max. capacity: 15700 l/hr
Max. discharge head: 46 m
Max. pressure: 4 bar
The EN pumps are self-priming, side entry, impeller pumps in 230 or 400 Volt that are self-priming to 6 metre.
The pump housing and the impeller are made of bronze and the pump shaft of stainless steel AISI 316.
The seal consists of an NBR lipseal but optionally these pumps are also available with a mechanical seal.
The pumps are all supplied with hose connections and a reversing switch so that the suction side and pressure side are reversible.
The pumps are ideal for pumping liquids as thin as water without solids including sea water, diesel oil, anti-freeze etc.