Zenit DR Steel pump serie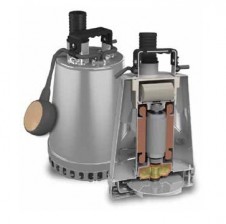 Characteristics
Stainless steel AISI 304 submersible pumps for drainage water.
Max. power: 0,75 kW
Max. capacity: 20 m3/hr
Max. capacity: 333 l/min
Max. capacity: 20000 l/hr
Max. discharge head: 16 m
Max. pressure: 2 bar
Max. drainage: 12 mm
Speed: 2900 rpm
These submersible pumps are fitted with a top outlet, making them ideal for small spaces. Due to the integrated cooling jacket, these pumps may also be semi-submerged work and they are suitable for a maximum fluid temperature of 40 ° C. The pumps are made entirely of stainless steel AISI 304.
The pumps are available in 230 and 400 volts and come standard with a float switch. For small spaces, the pumps are available on request with a vertical level that works on a magnetic contact.
The seal consists of two mechanical seals (silicon carbide / carbon) is mounted in an oil chamber. V-ring is in direct contact with the liquid.